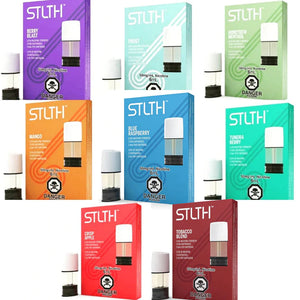 How to Dispose of STLTH Vape Pods
If you are interested in switching from tobacco cigarettes to vaping, vape pod systems are a great choice. Relatively inexpensive start-up costs and the simplicity of the design make vape pods the ideal option for those looking to make the switch. 
This option has many benefits, but the one major drawback to pod systems is the disposable nature of the pods themselves and their impact on our environment. Vape pods and disposable vapes cannot be recycled in the regular blue bins and shouldn't be thrown in the trash. This makes the disposal process tricky. While special municipal facilities accept non-recyclable and hazardous materials, it can be challenging to make a drop-off because these facilities tend to be few and far between. Many of them may even charge for this service. As a result of frustration, many consumers throw their vape pods in the trash even though they know this is wrong. 
STLTH's Recycling Program
To address the issue of convenience and ease regarding recycling vape products, STLTH formed a nationwide recycling program which allows users to return their spent pods at any one of their participating partner locations across the country, free of charge. 
Through this recycling program, keeping your vape pods out of landfills is now easier than ever, and all you have to do is take your empty STLTH pods to any participating locations across Canada. You will see black STLTH recycling containers where you can drop off your vape products. Once the bins fill up, the pods get shipped to their facility for sorting. They are then sent to recycling partners, where they are dismantled. Following this process, the materials are then repurposed. 
This program allows thousands of pods to remain out of landfills, and less waste in our landfills will result in a more sustainable future. You can check the store locator to find a participating location near you. 
STLTH has also partnered with Tree Canada, a national non-profit organization that plants trees across the country to help revitalize and protect our country's tree canopy. This organization works with governments, communities and its partners to plant new trees in areas affected by natural disasters like floods, hurricanes, fires and invasive species destruction. 
Disposable Vapes & Pods
Everyone is responsible for protecting the environment, and properly disposing of STLTH vape pods is necessary. Here at Royal Vape Kitsilano, we can provide you with more information regarding this matter because we care about our earth and believe sustainability must be prioritized. We carry
disposable vapes and vape pods
,
and you can visit us anytime at 1808 W Broadway, Vancouver, to discuss STLTH's recycling program further!
---