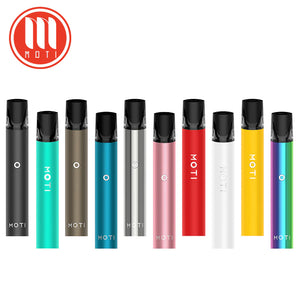 Everything You Need to Know About the 4 Most Common Types of Vapes
Vapes can be broken down into four major categories, and the following guide will highlight all of the options you can consider:
Cig-a-likes and vape pens 
Cig-a-likes are small and resemble real cigarettes. They are the most simplistic of the four vape devices and are suitable for first-time vape users because they are inexpensive and easy to use. Its batteries are similar to vape pens, and the cartridges offer a hassle-free, user-friendly experience with the added bonus of not having to carry e-juice. Its short battery life, however, is considered a drawback. 
Visually, vape pens are very similar to cig-a-like devices. However, vape pens have a larger and more powerful battery component, allowing for longer battery life and higher wattages. Some also come with safety features like shut-offs to safeguard against accidental activations. Vape pens are also very easy to use and portable. They come in various sizes and colours, allowing you to customize your vape experience. Vape pens produce larger vapour production with more pronounced flavours and have longer battery life when compared to cig-a-likes.
Vape Mods
These devices are either regulated with an added circuit board that regulates the device's safety features and the customization of temperature, wattage and voltage or unregulated with no added safety or customization methods. Beginners should not turn to unregulated mods because they are difficult to use and may pose a risk to the user, and only highly experienced vapours should use unregulated mods. 
Most mods you see will be regulated, but it's important to double-check on this aspect. Vape mods are powerful and complicated but often include advanced features like temperature control, variable voltage and wattage that allow you to adjust the intensity of the flavour and the amount of vapour production. If you want to move to lower nicotine levels, mods are ideal because they generally use Firebase e-liquids with lower nicotine strength.
Vape Pods
Pod vapes are available in closed or open pod systems. They combine the simplicity and ease of cig-a-like prefilled cartridges with a long-lasting low-wattage battery. Pod vapes result in an overall improved experience because Nicotine Salt-based e-liquid is used. Open pod systems can be refilled manually, while closed pods are disposable vape cartridges that cannot be opened or refilled.
Disposables
These devices are similar to cig-a-likes; however, the entire unit gets replaced when it is empty, and the charge is gone. One of the main benefits of this option is the convenience aspect, and once you try a few disposable vapes and get a feel for it, you can then look into getting a pod system if you like. This is a low-cost way to try something new, and disposables are great if you want to have a few on hand, just in case or if you like the convenience of a smaller, self-contained device for travel.  
The experts at Royal Vape Kitsilano can provide more information regarding the available types of vapes. We carry vape pens, Cig-a-likes, Vape mods, Vape pods, STLTH pods and disposable vapes.
Browse our selection of vape pens
and more, or stop by to see us at 1808 W Broadway, Vancouver!
---