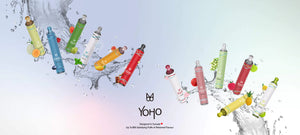 Let's Yoho: Discover Canadian-Designed Vaping Brilliance
Let's Yoho: Discover Canadian-Designed Vaping Brilliance
Experience the extraordinary with Yoho Disposable Vapes, proudly designed in Canada. Join us on a quick journey through these remarkable devices and tantalizing flavors.
Canadian Craftsmanship: Yoho Disposable Vapes are born from Canadian ingenuity, offering an exceptional vaping experience.
Impressive Features: With an 1100mAh battery, 2500+ puffs, and 1.6-ohm mesh coil, Yoho guarantees top-notch performance.
Zero Dry Hits: Our stringent 8-stage quality control ensures every puff is flawless, eliminating dry hits.
Flavorful Delights: Yoho presents an array of delectable flavors, from Aloe White Grape Ice to Cold AF, offering something for every palate.
Let's Yoho today! Explore Canadian-designed excellence at www.yohovape.com.
---