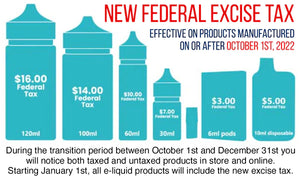 What Is Canada's 'Excise Tax' or 'Stamps'
Key Points for Canadian Vapers:
Excise tax introduced in Canada for vaping products from October 1, 2022.
Applies to e-liquids, disposable vapes, pre-filled systems, and DIY supplies for e-juice.
All affected vaping products must bear an excise stamp by January 1, 2023, indicating duty payment.
Duty rate: $1 for every 2mL or g (liquid or solid) up to 10mL or g, plus $1 for every 10mL or g thereafter (rounded up).
Responsibility for paying duties lies with the packaging party or designated entity under Canada's Customs Act for imports.
Some businesses may adjust prices, potentially increasing costs for consumers.
Vaping remains a more cost-effective choice compared to smoking, with e-liquid prices still around 25% of cigarette costs.
Starting in 2023, all Canadian vape products will feature an excise stamp on their packaging.
Royal Vape Kitsilano is dedicated to keeping consumers informed about vaping industry developments.
---